Nov 30 – Dec 5 Jingle on the Mile – a (semi) Virtual Experience
​​Follow along on Facebook as 16 local merchants showcase their holiday offerings of gifts to purchase for your loved ones this Christmas. Your support for these small business owners is most welcome this year and each has taken extraordinary measures to make sure you are safe when visiting their stores. Watch for Jingle Deal specials and more!
Not a gift wrapper? CubeSmart Self-Storage, 3780 E State St, will wrap your gifts for a donation to Toys for Tots. They are also a drop-off location for toys. Gift wrapping only available December 4-5 from 10a – 4p.
Beautification Project Sprucing up the Miracle Mile! We can assist with the cost of design landscaping to refresh your property. Contact us for more details.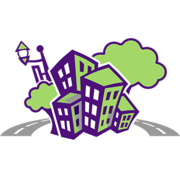 Enhancing Quality of Life
Public safety is our number one concern. We developed a Security Camera Purchase Assistance program to help businesses. Funds up to $1,000 are available to help you install exterior security cameras. Contact us for more information at 815-323-0395.
Lighting the Way
We finally have street lights to brighten our business district. We would like to thank Alderman Frank Beach and the City Council for the installation. It definitely brightens up our area and is warm and inviting.